Bibles¶
This section describes the use of the various converters built into OpenLP for managing and importing Bibles from other formats.
Bible Import Wizard¶
If you are using an earlier version of OpenLP or, come from another software package, you may be able to convert your existing database to work in OpenLP 2.0. To access the Bible Importer File ‣ Import ‣ Bible. You may also enter the Bible Importer by clicking the Import Icon:
Import Bibles

Click on the

Import Bibles

icon to start the Bible import wizard.
You will see the Bible Importer window, click Next.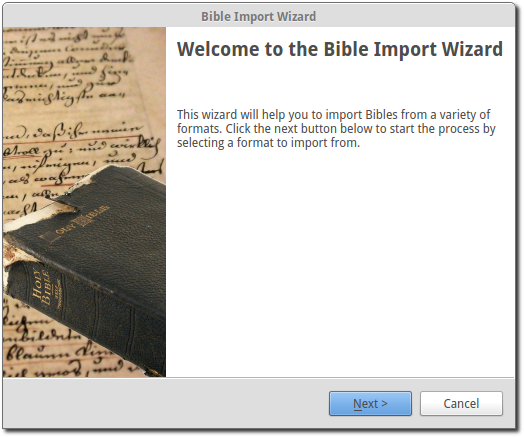 After clicking Next you can select from the various types of software that OpenLP will convert Bibles from. Click on the file folder icon to choose the file(s) of the Bible database you want to import. See the sections below for more information on the different formats that OpenLP will import. Click Next to continue.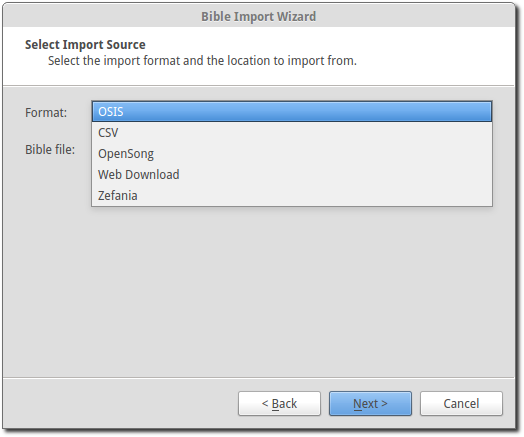 After selecting your file(s), you'll be asked to fill in the details of the Bible you are importing. Remember to check what information you need to display for your Bible's translation, as some of them have strict rules around the copyright notice. Click Next to continue.
Note: You can use one blank space using the space bar in the copyright field to continue if you do not have or need copyright information.
After entering the license details, OpenLP will start to import your Bible. It may take some time to import your Bible so please be patient.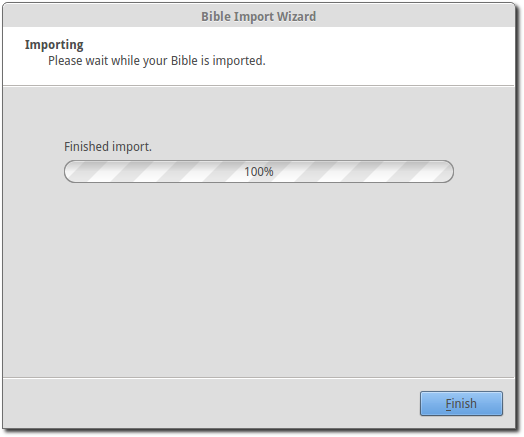 When the import has finished click Finish and you should be ready to use your Bible in OpenLP.